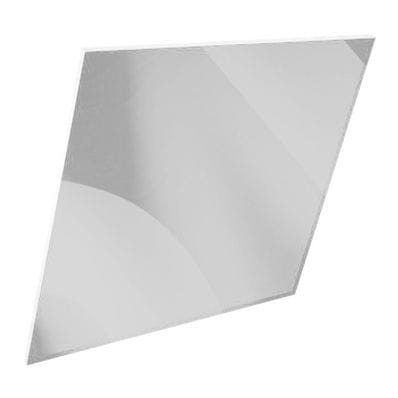 Acrylic Cast Silver Mirror Sheet
Silver mirror acrylic sheet is a very versatile and safe product used in areas where vibration or flexure may occur

Acrylic Mirror sheet is intended primarily for areas such as interior fittings for decoration, display and point of sale, visual merchandising, store design applications in the food service industry, and where safety requires the shatter resistance of acrylic plastic sheet. Mirror Acrylic has the same durable properties as normal acrylic, with the same weather & chemical resistance, impact resistance but has the looks of real glass.
Mirror Acrylic offer impact strength of around 17 times greater than that of glass in equal sheet thickness, and is manufactured with the industries toughest protective back-coating which protects the back from being scratched during general use and fabrication.
Mirror colour silver
Surface finish single-side mirror
Thickness 3mm
Size
A4 210 X 297mm
A3 297 X 420mm
300 X 600mm
610 X 610mm
1220 X 610mm
1220 X 2440mm

Like all plastic materials, mirrored acrylic will react when exposed to certain chemicals. Below is a partial list of chemicals known to react with acrylic mirrors; exposure to them should be avoided. External factors such as fabrication stresses, exposure to loads or changing temperatures, and the method of application can influence the possible reaction as well. Care should be taken with dry chemicals or solvents used near the mirrored acrylic at all times.

KNOWN CHEMICALS THAT ATTACK MIRRORED ACRYLIC:
BENZENE ETHYL ALCOHOL
LACQUER THINNERS KETONES
ESTERS METHYL ALCOHOL
CARBON TETRACHLORIDE ETHERS
TOLUENE
Shipping Method for 1220 x 2440mm please choose Full sheet delivery Option
Product images are for illustrative purposes only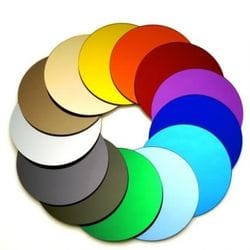 EuroMir Acrylic Colour Mirror Sheet
View More


Global 372 Acrylic Pty Ltd
4/284 Musgrave Road
Coopers Plains
Queensland Australia 4108