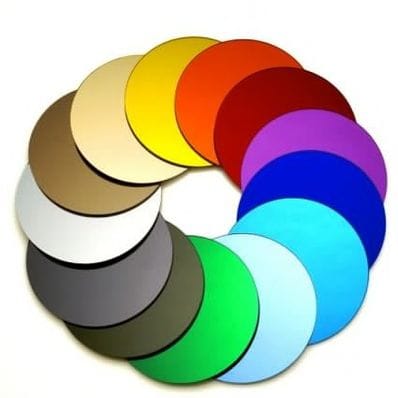 EuroMir Acrylic Colour Mirror Sheet
EuroMir is a high quality, European grade acrylic mirror. It is available in a range of colours, in both gloss and satin finishes, and comes with a tough durable back coating.
EUROMIR Mirror offers a combination of the lightweight, excellent shatter-resistant qualities of acrylic plastic with reflectance. Because acrylic has a relatively soft surface and is flexible, some imperfections or distortion may occur. EUROMIR Mirror should not be used where precise image reflectance is required, except in relatively small components. An appropriate thickness should be determined prior to cutting.
EUROMIR Mirror is also recommended for outdoor use and can not be hollow punched, but can be router, saw or laser cut. Some adhesives attack the mirrored surface, therefore we recommend testing expendable pieces at least 84 hours in advance to determine suitability. Moreover, solvent gluing at edges may cause crazing.
EUROMIR Mirror is a combustible thermoplastic. Precautions should be used to protect the material from flames and high heat sources. Any significant coverage of interior wall or ceiling areas will be subject to approval under local building and/or fire codes governing interior finish applications.
Material should be stored in a cool, dry area. The change in humidity levels causes the biggest variation in thickness and size. The material should be stored flat and over wrapped with plastic to minimize absorption of water vapour.
Protective film should not be removed until manufacturing is complete. Handle with care during manufacturing and handling of both sided of mirror sheet.
EUROMIR Mirror is intended primarily for relatively small areas like interior fittings for decoration, display, visual merchandising, store design, and/or where safety requires the shatter resistance of acrylic plastic sheet.
Thickness 3mm
Size 300 x 600mm
Availability:
Standard normal sizes: 1525 x 2030mm
Standard colours: Silver, Gold, Bronze, Grey, Anthracite, Red, Purple,Orange, Green, Pink Rose, Yellow, Sky Blue, Blue, Night Blue, Amber,
Standard thickness: 3 mm
Advantages
Lightweight;
Break resistance : can be 10 times more break resistant anhdas 17 times greater impact resistance than glass of equal thickness;
Cold formable: simple curves of not less than 1.150 mm radius for a thickness of 3 mm
Easily fabricated: scribe and breakc,ut with power saw using veneer type blades, and drill with soft metal bits or special bits. Mirrored acrylic can be cold bent for curved shapes or strip heated for a sharp bend;
Surface decoration: painting, stencilling, appliqués, engraving, hot stamping;
Cleaning: EUROMIR Mirror should be cleaned by applying a suitable acrylic polish (i.e. Plexus) to the front surface of the mirror and wiping with a soft clean, grit free cloth
Like all plastic materials, mirrored acrylic will react when exposed to certain chemicals. Below is a partial list of chemicals known to react with acrylic mirrors; exposure to them should be avoided. External factors such as fabrication stresses, exposure to loads or changing temperatures, and the method of application can influence the possible reaction as well. Care should be taken with dry chemicals or solvents used near the mirrored acrylic at all times.

KNOWN CHEMICALS THAT ATTACK MIRRORED ACRYLIC:
BENZENE ETHYL ALCOHOL
LACQUER THINNERS KETONES
ESTERS METHYL ALCOHOL
CARBON TETRACHLORIDE ETHERS
TOLUENE
Product images are for illustrative purposes only
EuroMir® Acrylic Mirror features one of the industries toughest back coatings. As a result the reflective qualities of EuroMir® are second to none. The toughness of the coating offers practical advantages during fabrication as it resists abrasion whilst being handled. EuroMir® is lightweight and possesses excellent shatter resistant qualities, making it a safer alternative to glass. If broken it will not shard, making it ideal for use in areas of high vandalism or where children may be present.
Weatherability
Acrylic plastic alone has an excellent outdoor weatherability. However, the mirrorizing back coat may develop pinholes and/or oxidation spots in exterior applications. This can occur on either the front or back surfaces exposed to the elements. Service life is not really definable and will vary widely with the severity of exposure to weather conditions.
Rigidity
EUROMIR Mirror sheet is a flexible material with roughly 1/20 the stiffness of the glass of the same thickness. This characteristic is generally advantageous, but due consideration must be given to deflection of unsupported areas because of the weight of the sheet or other imposed loads. The result is some image distortion which becomes more noticeable as the area of coverage increases.
Distortion can be minimized but not entirely eliminated (except in relatively small panels) with increased EUROMIR Mirror thickness and proper installation on a rigid substrate.
Temperature and Humidity
Linear dimension changes in EUROMIR Mirror panels due to changes in ambient temperature and humidity will be greater those that will occur in other common building materials to which EUROMIR Mirror is fitted.
Install EUROMIR Mirror at normal room temperatures to keep subsequent temperature change to a minimum. Avoid installation of EUROMIR Mirror near sources of high heat or humidity that could warp the panels.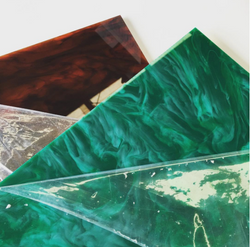 Coloured Cast Marble and Granite Acrylic Sheet
View More


Global 372 Acrylic Pty Ltd
4/284 Musgrave Road
Coopers Plains
Queensland Australia 4108