Acrylic Coloured Fabric Sheet
The uniqueness of this acrylic sheet is embedded with real fabric.
Acrylic offers high light transmission and can be easily formed without loss of optical clarity. Exposure to moisture or total immersion in water does not significantly affect the mechanical or optical properties.
Acrylic Colour fabric Sheet
Size 300 x 600mm
610 x 610mm
1220 x 610mm
Thickness 3mm
Colour Gold
Silver
Red
Finish Gloss
Single-side fabric pattern
Product images are for illustrative purposes only
Fabric acrylic can be cut, drilled, routed, laser cut, glued, formed, hot stamped, and silk screened like any other standard acrylic sheet. It is also ideal in applications that require other acrylic products to be used in combination with the fabric without the need for mechanical fasteners or complex adhesives.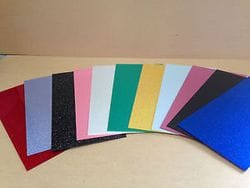 Glitter Acrylic Sheet
View More


Global 372 Acrylic Pty Ltd
4/284 Musgrave Road
Coopers Plains
Queensland Australia 4108