Glitter Acrylic Sheet
Sparkling flakes shining as light reflects off the surface
Acrylic offers high light transmission and can be easily formed without loss of optical clarity. Exposure to moisture or total immersion in water does not significantly affect the mechanical or optical properties.
Acrylic Colour Glitter Sheet

Size 300 x 600mm

Thickness 3mm

Finish Gloss
Limited stock and various colors in stock
Single-side glitter
Product images are for illustrative purposes only
Glitter acrylic can be cut, drilled, routed, laser cut, glued, formed, hot stamped, and silk screened like any other standard acrylic sheet. It is also ideal in applications that require other acrylic products to be used in combination with the Glitter without the need for mechanical fasteners or complex adhesives.
Key Features:
10 times the impact resistance of standard glass
Easily fabricated, cut, drilled, and polished
Excellent optical properties
Fully recyclable
Lightweight material
Outstanding UV resistance
Temperature range: Up to +75ºC, +90ºC short term
Very good resistance to weak acids and alkalis

Application and function
Boat windows
Displays and display cases
Lighting
Fishtanks
Noise barriers
Point Of Sale
Pool fencing
Shelves
Sight glasses
Working models and signage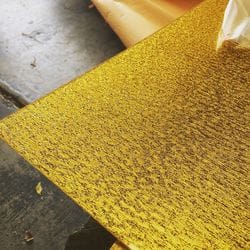 Acrylic Coloured Fabric Sheet
View More


Global 372 Acrylic Pty Ltd
4/284 Musgrave Road
Coopers Plains
Queensland Australia 4108