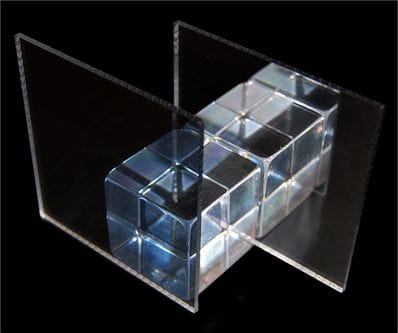 Acrylic 2-Way Mirrored Sheet
Acrylic 2-Way Mirrored Sheet
Semi Mirrored
Size: 400x600mm
2-Way Mirrored Acrylic Sheets
Sometimes called see-through, surveillance, transparent or one-way mirror.
Mirror-Grade Acrylic coated on one side with Aluminum Oxide

Looks like a normal mirror from the well lit "lighted" side and see-thru tinted window from the side with little or no light.

See-through mirror has a light transmission range of 5 to 20%.

The reflectance of see-through mirror is 60 to 75% see-through.

Many uses such as showroom surveillance from a darkened office, hidden cameras, hiding a flat screen TV, Infinity Light Boxes.

Not for use with high humidity or contact with water.
Two way mirrors are used for security, privacy, infinity mirrors, optical illusions, hidden televisions, smart mirrors, and teleprompters. The appearance of two way mirror glass depends on which side you are looking throughit is only reflective from one side. With appropriate lightning, the observer is able to see straight through it, but from the other side all you see is a regular mirror. We can temper the glass to increase its strength by tenfold. The glass is rated for both indoor and outdoor use and has a highly durable coating which can be cleaned with standard glass cleaner and paper towels.
Like all plastic materials, mirrored acrylic will react when exposed to certain chemicals. Below is a partial list of chemicals known to react with acrylic mirrors; exposure to them should be avoided. External factors such as fabrication stresses, exposure to loads or changing temperatures, and the method of application can influence the possible reaction as well. Care should be taken with dry chemicals or solvents used near the mirrored acrylic at all times.
KNOWN CHEMICALS THAT ATTACK MIRRORED ACRYLIC:
BENZENE ETHYL ALCOHOL
LACQUER THINNERS KETONES
ESTERS METHYL ALCOHOL
CARBON TETRACHLORIDE ETHERS
TOLUENE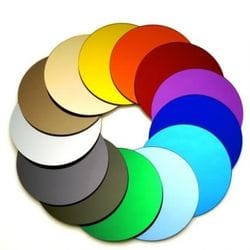 EuroMir Acrylic Colour Mirror Sheet
View More


Global 372 Acrylic Pty Ltd
4/284 Musgrave Road
Coopers Plains
Queensland Australia 4108