Acrylic Extruded Clear Tube Dia.110mm
Plastic extruded clear tube is ideal for reinforcing and decoration
Extruded Acrylic Tube
Produced by extruding the acrylic into the most popular tube diameter - this is called Extruded Acrylic Tube and provides an economical alternative to cast acrylic where aesthetic finish is less crucial, but the outside diameter is available to a maximum of 1000mm. Customised diameter can be produced up to 1500mm, though minimum order quantites are required.
Product dimension is displayed as the following:
OD = outside diameter, ID = inside diameter, Length
Cut-to-size is available when request, additional charge may apply
2 Metres tube, please choose full size/ 2m shipping option
Product images are for illustrative purposes only
Main advantages of using Extruded Acrylic Tube
Available in small diameters from 8mm OD
Economical alternative to cast acrylic tube
Good manufacturing tolerances
Easily been cut to size as requested
Good resistance to most inorganic chemicals, oils, and weathering
Extruded acrylic tubes can be glued
Application
Point of sales display
Jewelry Display
Fish tank
Food storage
Weeding Function decroation
Lighting Accessories etc.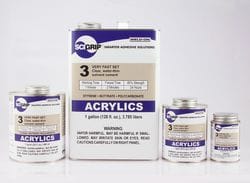 SCIGRIP Weld-On 3 Acrylic Adhesive
View More


Global 372 Acrylic Pty Ltd
4/284 Musgrave Road
Coopers Plains
Queensland Australia 4108