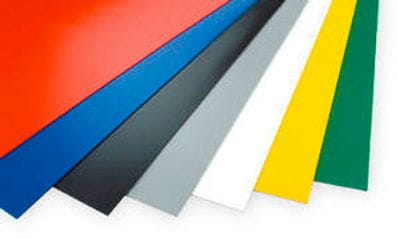 PALIGHT® FOAM Pack of 5 PVC A3 420 x 297 x 5mm White PVC Flat Sheet 3D Printing
PRODUCT APPLICATIONS
• Advertising – Construction signs,
displays and exhibition boards, etc.
• Construction – Models, partitions,
wall cladding, interior decoration,
air conditioning ducts, etc.
• Industry – Control cabinets and panels,
structures for corrosive environments,
KEY FEATURES
• Optimally designed for digital printing
• Bright white, smooth and uniform surface
• Available in a wide range of standard and
special designer colours
• Standard matt or gloss finishes
• Good insulation, lower heat transmission
• Non-toxic
• Flammability: self- extinguishing
• Easily worked with conventional tools,
prints and paints
• Easily bonded, formed, nailed and bolted
• Low water absorption
• High chemical resistance
PALIGHT® and Foamalite™ PVC Foams are versatile, flexible, lightweight and durable sheet designed for the demanding digital print, screen print and sign applications. PALIGHT® and Foamalite™ exhibit the whitest colour available and both products are successfully tested by the majority of digital flatbed printer manufacturers. Printers and advertisers may benefit from its constantly smooth and bright surface and offers a high quality
printing substrate for sharp, high quality printed images.
It is light weight and quite rigid. It is available in black, white and colours in numerous thickness and sheet sizes.
PALIGHT and Foamlite™ is easily handled, cut and fabricated using conventional tools and equipment, and can be printed, painted or laminated.


Global 372 Acrylic Pty Ltd
4/284 Musgrave Road
Coopers Plains
Queensland Australia 4108