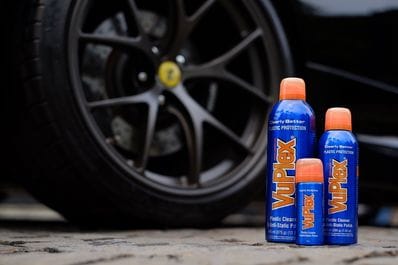 Vuplex Plastic Cleaner & Polisher
Anti-Static Cleaner
VuPlex® was designed for use within the demanding aviation industry and delivers a fast, safe, and effective solution to plastic maintenance. The ingredients in VuPlex® have been specifically selected and tested to deliver fast quality results with the minimum of effort and fuss. Some cleaners use abrasives to remove dirt and scratches. This not only introduces more scratches to the surface but over time weakens the plastic through constant plastic removal. VuPlex® works in reverse to this process by penetrating the dirt and grime in the surface and adding a fine layer of filling material that leaves the surface protected and adds a lustrous finish to clear and coloured plastics and makes plastic paints gleam like new.
How it works
The product works using five functions in one quick action. It cleans using safe ingredients that wont damage plastic surfaces. It applies a fine coating of wax that gives the surface protection from micro scratching. The wax acts as a barrier against water (hydrophobic) and other atmospheric conditions that cause aging and a break down of clarity. Static that is built up in the plastic surface and attracts other abrasive material such as dust, is controlled by VuPlexs anti-static properties. VuPlex polishes to a high shine and restores the lustre and new look to the surface. The finish is not sticky or greasy and can be achieved in mere seconds.
Vuplex Plastic Cleaner and polisher.
Smart 200g. per can.
Antic-Static
Bristro Blind Cleaner.
For all types of plastics,boat or motorcycle windscreen!
Dry perfectly!
Application
CLEAR OR COLOURED ACRYLICS
Aquariums
Windows
Spas
Storm Windows
Outdoor Vinyl Blinds
AUTOMOTIVE
Window Tinting
Dashboard & Interior Trim
Stone-Guards and
Headlight Protectors
Clear coated alloy wheels
BOATS
Acrylic and Polycarbonate
Windscreens
Clear Vinyl Windows etc.
Clears and Bimini Top Windows
Instrument Panels
Goggles
Jet Skis
CARAVANS
Acrylic Windows
Vinyl Windows
Bench Tops


Global 372 Acrylic Pty Ltd
4/284 Musgrave Road
Coopers Plains
Queensland Australia 4108