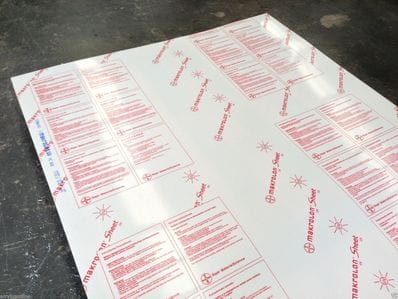 Polycarbonate Clear Sheet
Makrolon Polycarbonate UV2 is a clear polycarbonate sheet manufactured with two sided UV protective coatings for increased UV protection. Polycarbonate UV2 Sheets offer excellent weathering properties, whilst maintaining high clarity and extreme impact resistance.
Makrolon® UV materials are co-extruded polycarbonate sheet, offering exceptional weatherability and impact strength, making it the ideal choice for flat or moulded applications where extended service life and resistance to colour shift is required.
Thickness
1mm
1.5mm
2mm
3mm
4.5mm
6mm
Size
300 x 600mm
400x 600mm
610 x 610mm
1220 x 610mm
1220 x 1220mm
1220 x 2440mm (Full Sheet)
Colour Clear
Grade Standard
Product images are for illustrative purposes only

Shipping Method: Please choose Full sheet delivery Option for 1220 x 2440mm (in 3mm 4.5mm 6mm thickness)

Key Benefits of Makrolon Polycarbonate UV2:
Shock resistant
OH&S compliant
Thermally stable
High electrical resistant
Light weight and easy to process
Optical clarity
Flame retardant

Makrolon Polycarbonate UV2 Applications:
Machine guards and machine enclosures
Noise control enclosures
Switch gear cabinets
Earth moving machines
Bus shelters
Security windows



Global 372 Acrylic Pty Ltd
4/284 Musgrave Road
Coopers Plains
Queensland Australia 4108